Rubebr&Plastic Mixing Machines
Open Mixing Mill
Date:2013-4-18 Views:969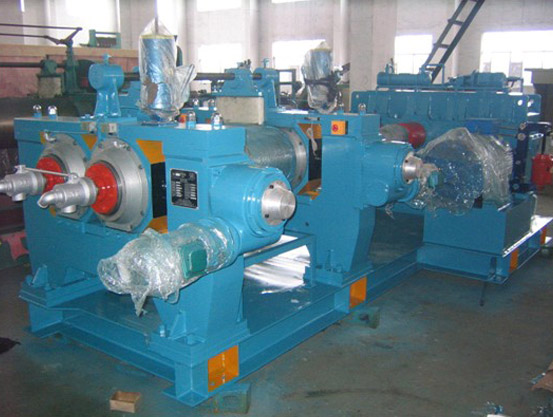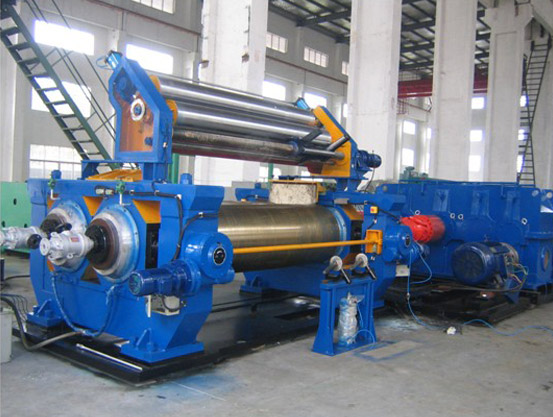 Description:
Two rollers open rubber mixing mill is mainly used in rubber product factory: Natural rubber refining, raw rubber and compound mixing. This machine is double roller opening to be used for rubber or plastic mixing. It consists of base, frame, rubber, driving device, lubricator and cooler, range adjusting device of roller, safety brake, motor and reducer, etc. The roller is made from safety cooled and hard cast iron, smooth surface is polished in term of different case. Saturated steam and cooling water can be inputted in the empty roller to adjust temperature of roller. Colloidal particles and rubber are drawn into the gap of the two rollers which make relative rotation in different velocity to mix rubber, into further rubber sheet.
Features:
1.Tailored structure, easy to operate.
2.There are many speeds and speed ratios available, which can satisfy most customers' formula and processing requirements.
3.Frame, frame cap and base, looking very nice, are welded and treated by annealing for stress relieving.
4.Chilled alloy cast iron roll is abrasion resistant with long service life.
5.The speed reducer is the hard-tooth surface gear reducer of Class 6 precision, which has long service life and low noise.
6.Perfect emergency stop device can ensure the safety of personnel and equipment.
7.The seal structure with special design can eliminate the leaking phenomenon of lubricating oil.
8.Stock pan is easy to clean up with dislodging device.
9.Human nature designed operating system reduces labor intensity.
10.Modular structure offers various structures for customers' option.
11.The flexible design system can satisfy customers' special design requirements within the shortest time.
12.A load test running will be made to the assembled equipment in our company to save debugging time for customers.
Specification:
型号
Model

X(S)K-160

X(S)K -250

X(S)K -360

X(S)K -400

X(S)K -450

X(S)K -550

X(S)K-660

辊筒直径
Diameter
of rolls

160

250

360

400

450

550

660

辊筒工作长度Working length of roll

320

620

900

1000

1200

1500

2130

前辊线速度Working speed of front roll

8.95

14.9

17.4

19.3

23.1

28.6

30

辊筒速比Fraction ratio of rolls

1:1.35

1:1.1

1:1.27

1:1.27

1:1.27

1:1.29

1:1.05

辊筒最大间距Max.gap(mm)

5

8

10

10

10

15

15

间距调节方式Nip regulating way

手动花柄Manual

手动花柄Manual

手动花柄Manual

手动/电动Manual or Electric

手动/电动Manual or
Electric

手动/电动Manual or
Electric

电动
Electric

产量 (Kg)
Batch capacity

1-2

10-15

20-15

25-35

30-50

50-60

120-140

电机

功率

5.5

15

30

45

55

90/110

180

电机转速

1440

730

980

740

980

740

740

减速机

密闭式硬齿面减速机 Full closed type hardened gear speed reducer

减速机速比Reduction ratio

43

35

49.7

38

47.2

35.6

126.2

外形尺寸Overall dimension (mm)

1120x920
X1295

3400x1270
X1620

4140x1770
X1700

4490x1700
X1750

5570x1900
X1750

6290x2330
X1780

7500x2630x2060

重量
Weight (kg)

1100

4200

7600

9000

11500

20000

26500