Rubebr&Plastic Mixing Machines
Dispersion Kneader
Date:2013-4-18 Views:975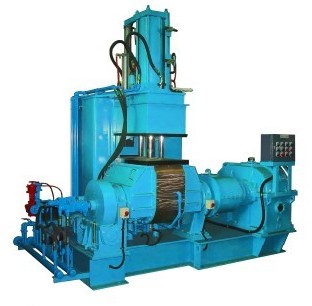 For Rubber, Plastic & Chemical Industry
Main application:
Rubber & TPR,EVA,Rubber sole, Rubber Roller, Hoses Belts, Sponges, Vibration Insulator, Elastic Cord, Sealing Materials, Tire, Tapes, Master Batches, Pigment Ink, Automobile Electric Rubber Parts, Chemical Industry Compounds.
Feature for Dispersion Kneader:
1. An automatic temperature and time control system to provide a 100% mixing effect.
2. Easy to clean chamber and changing colors.
3. In 6~10 minutes/batch of output equivalent to 2 units of mixing mill.
4. Pressurized and sealed mixing chamber to provide high mixing performance and prevented environmental pollution.
Specification:
型号
Model

X(S)N-3

X(S)N-10

X(S)N-20

X(S)N-35

X(S)N-55

X(S)N-75

X(S)N-110

X(S)N-150

X(S)N-200

有效工作容积
Effective Mixing capacity

L

3

10

20

35

55

75

110

150

200

主电机Main power

KW

5.5

15

30

55

55/75

90/110

160/200

220

280

翻转电机
Brake
Motor

KW

0.37

0.75

1.5

2.2

3.0

4.0

5.5

5.5

7.5

翻转角度Tilting
Angle

℃

110

110

110

140

140

140

140

140

140

空压机
Air compressor

KW

1.5

2.2

3.0

5.5

7.5

10

10

15

20

集尘器
Dust
Collector

HLL-10

HLL-10

HLL-10

HLL-10

HLL-15

HLL-20

HHL-30

HHL-30

HHL-30

冷却水压Cooling
Water

MPA


0.2-0.4

0.2-0.4

0.2-0.4

0.3-0.4

0.3-0.4

0.3-0.4

0.3-0.4

0.3-0.4

0.3-0.4

蒸汽压力Heating
Steam

MPA

0.5-0.8

0.5-0.8

0.5-0.8

0.5-0.8

0.5-0.8

0.5-0.8

0.5-0.8

0.5-0.8

0.5-0.8

电加热功率Electric
Heater

KW

4

6

9

12

15

18

24

28

32

设备重量Machine
Weight

KG

1200

2300

4500

6500

7800

10500

14500

19500

22500

设备尺寸Overall
Dimension

CM

196x970x182

220x135x215

250x148
x250

310x179
x271

342x214
X280

380x214
X318

440x276
X377

462x300
X415

470x340
X430