Rubber Cutting Machine
Vacuum Automatic Rubber Washer Cutting Machine
Date:2013-4-18 Views:802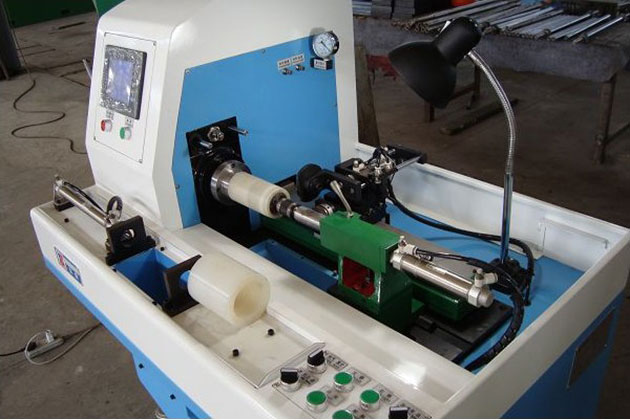 Purpose:
Fast cut of all kinds of rubber, silicone gaskets/ washer, ring-shaped tubular products.

Features:
1. When the cut is finished, materials take off automatically, and through the collection boxes to gather the cut products.
2. Vacuum adsorption of the cut product, so ensuring the finished product more precise.
3. Automatic air blowing function makes loading and unloading more convenient , greatly improve the product cutting efficiency;
4. Using color LCD touch screen control, operation is extremely simple.
5. All electrical components, pneumatic components are imported from abroad or domestic famous brand products, to ensure long-term use, reliability and stability of the new machine.
6. According to customer requirements, choose to install a round knife or column knife, ensuring cost saving on the cutter.
Specification
Cutting efficiency

>60 times/minute

Working rotating speed

0~2000r/min

Cutting precision

≤±0.05mm

Cutting diameter

Φ10mm~Φ230mm

Cutting length

Standard type≤100mm or lengthen type≤350mm

Wall thickness of the rubber tube

≤12mm

Finished product thickness

≥0.02mm

Cutter specification

(1)round cutter:Φ76×Φ25.4×Φ0.3mm
(2)column cutter:70×8×0.3mm

Compressed air consunption

20L/min

Air pressure

0.5MPa~0.8MPa

Working vacuum degree

≤-0.035MPa

Electric power

AC220V±5%

Total power

1KW

Weight

≈260Kg

Dimension of the machine(L×W×H)

130mm×90mm×150mm